A new tourism experience, The Angus Tour, has been launched today (Tuesday 23rd November 2021), encouraging people to head off the main roads and routes to Dundee and Aberdeen and explore Angus.
Hoping to appeal to people who want to enjoy the best of Scotland in one area, "The Angus Tour, Adventure Designed by You", takes in vast sandy beaches, historic castles and the stunning Angus Glens as well as a plethora of local delicacies and green experiences across all of the seven Angus towns and beyond. Each of the designed itineraries includes different Food & Drink options, as well as one of them being focused around the Food & Drink offering in Angus.
The tour has a focus on sustainable and responsible tourism  and offers a variety of travel options including public transport, cycling and walking, as well as driving and will take visitors on an inspiring tour around Angus, often described as a hidden gem, including year-round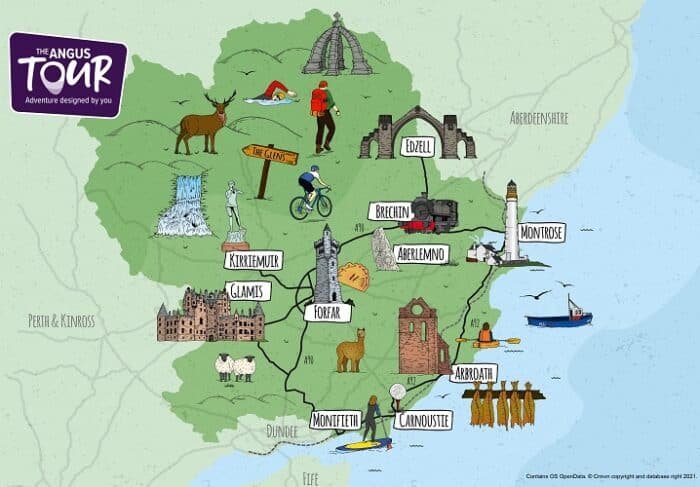 visitor experiences in locations across the east coast region.
The tour has come to fruition following Angus Councils successful application to the VisitScotland Destination & Sector Marketing Fund to deliver a new Visit Angus campaign. The purpose of the fund is to focus on post-pandemic recovery and develop and market visitor experiences sustainably and responsibly to stimulate holidays, ensure Scotland is a year-round destination and to support the recovery of the tourism sector.
To find out more about the tour, click here.
It would be fantastic if our members and Angus businesses could help share the word about The Angus Tour. This would help get maximum exposure for Angus and encourage as many people as possible to visit the area and design their adventure using the pick and mix itineraries available. To see how you can help spread the message, click here.