Kinnettles Tea Garden
Kinnettles Tea Garden is part of a working farm in Angus, approximately 10 miles North of Dundee.
In our Tea Garden we have produced limited quantities of Scotland's first ever 100% pure black tea since 2015.
We welcome small groups, by appointment, to visit and discover how we pluck and process our tea. We then enjoy a tea tasting of our handmade tea.
We also have a horticultural business growing tea plants which we have for sale.
Kinnettles Tea Garden is part of a wider group of growers called Tea Gardens of Scotland and if you are interested in visiting other tea gardens within the group, please visit the teagardensofscotland.co.uk  website to book a tea tour, or follow us on Instagram.
To contact our Kinnettles Tea Garden directly email kinnettles@teagardensofscotland.co.uk and follow us on Instagram.
Key People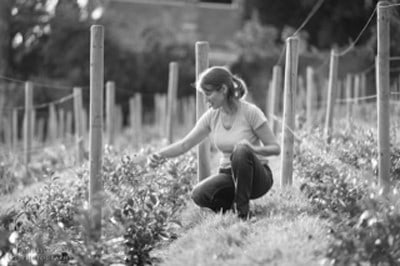 Susie Walker-Munro
Susie Walker-Munro started growing tea at Kinnettles in 2007 as a means of diversifying into a high end crop.  She sells her tea to Pekoe Tea in Edinburgh.  Kinnettles Tea Gardens have been running bespoke tours since 2017 by appointment.
The wider group that Susie is a part of, Tea Gardens of Scotland has assisted other entrants into the fledgling tea growing industry with a Feasibility study and assistance with the costs of micro tea manufacturing equipment, so that tea can be processed by the Scottish Tea Factory in Comrie. www.scottishteafactory.co.uk.
Please contact the Scottish tea factory directly through their website if you wish to book a UK Tea Academy certified course, or do any other of their courses covering all aspects of tea.