Fournos – Authentic Greek Food
Fournos is a home baking operation, producing authentic Greek pies, cooked meals, salads and desserts. Our goal is to bring a taste of Greece to Arbroath, Angus and the surrounding areas.
We use traditional recipes and techniques that have been handed down from family and friends throughout generations. Provenance has been important on this journey as we use authentic Greek ingredients but also utilise local produce in order to realise our recipes' success.
All our pies are made using hand made filo pastry. We try and introduce new and exciting products regularly but also keep certain favourites on the menu for our loyal customers to enjoy.
Our main route to reach our customers is the local farmers markets. We regularly attend Forfar, Arbroath and Chapelton markets as well as arranging pop ups in various retail shops in the area. Fournos also supplies our produce to local restaurants, cafés and retail shops.
Lastly we cater for events such as weddings, family gatherings, and parties, where you can have your own Greek stall with delicacies of your choice.
For more information contact us through our Social media
Key People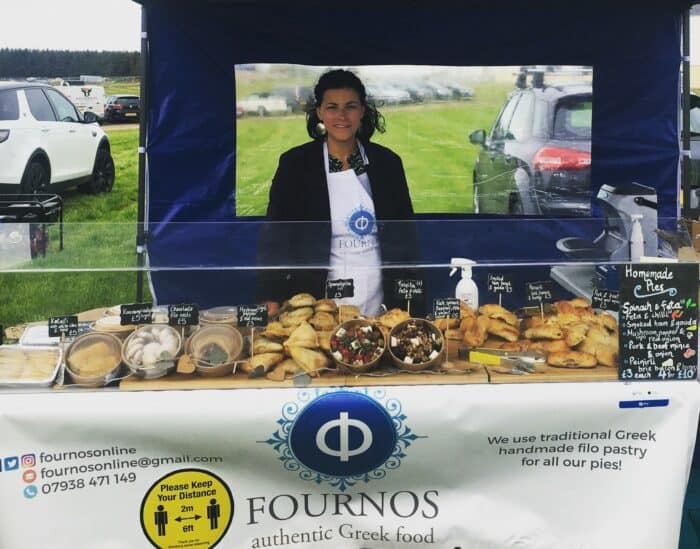 Christina Tsolaridou Sturrock
Christina was born in Greece where she lived for 22 years. In completion of her Hospitality Degree there she visited Scotland for a work placement in St Andrews in 2003 and has been living in Scotland ever since.
She has many years of experience within the Hospitality and Food Service industries and her real passion for good food and her dream of managing her own business has led her to the creation of Fournos in 2019.